Electric Vacuum Facial Blackhead Remover
Regular price
$43.97
Sale price
$21.97
Save 50%
/
Tax included.
Shipping
calculated at checkout.
---
SAY HELLO TO HEALTHY AND VIBRANT SKIN!
The DermaVacuum™ Facial Pore Cleanser easily removes blackheads using gentle micro-suction technology all while reducing the size of your skin's pores. By penetrating deep below the skin's surface, the pores are rid of excess oil and dirt, making your skin cleaner and smoother.

The DermaVacuum™ Facial Pore Cleanser is the newly invented solution to shrinking large, oily pores. 5 replaceable suction heads are included in this set, ensuring that it works for all skin types! Everyone is sick and tired of large pores and blackheads!
Combining this with the micro-dermabrasion tip, you can also wave goodbye to those fine lines and experience a more refined, youthful appearance.


Features
💄Spiral Pore Cleansing:  Say "NO MORE" to strip your skin of all its natural elements and improper extraction from outdated pore vacuums. Our spiral technology seamlessly cleanses pores in a 360° manner deep from within, jet suctioning all the dirt out from hard-to-reach pockets which other methods fail to do so. 
💄Shrink Pores:  We understand the importance of not just removing the bacteria from your skin but also improving the appearance of your skin which is exactly what our DermaVacuum™ does, shrinking the size and appearance of your pores.
💄Remove Blackheads, Oil & Dirt:  DermaVacuum™ works in mere seconds to remove all those unwanted blackheads right at the core. Furthermore, deep spiral penetration removes excess oil + dirt from within your pores for a noticeable difference in just 1-2 weekly sessions!
💄Nutrient Absorption: Integrating DermaVacuum™ into your nightly routine will help you get the most out of your favorite skincare serums. With optimum pore unclogging and accelerated blood circulation to the epidermis leading to greater penetration and absorption of your products. 
💄Reduce Wrinkles & Lifts Skin:  Our pore cleaner's dermabrasion tip gently exfoliates superficial layers and polishes uneven skin tone. With improved blood circulation to the epidermis and stimulation of natural collagen production, you can expect an improved appearance of fine lines and wrinkles. 
💄No Side-Effects:  DermaVacuum™ works great with all skin types! With our 3 levels of suction strength, you can effortlessly achieve the healthy complexion you desire without redness, swelling, or irritation.
Watch as the DermaVacuum™ not only cleanses your skin in seconds but leaves it feeling silky smooth.
The DermaVacuum™ is gentle and rejuvenating. It's 100% safe & will gently clear away
dead dull skin
, allowing
healthy new skin
to regenerate and shine through! Removing excess oil and extracting any blackheads will unclog your pores and minimize pore size making your skin look healthy and beautiful!
How To Use:
Simply cleanse your face beforehand with water, leaving your face wet.
Choose the appropriate vacuum head for the area of treatment.
Hold the power button down for 3 seconds to turn it on.
Choose your suction strength & move constantly back and forth over the chosen area.
Rinse your face gently and pat dry, then follow up with your favorite serum or moisturizer.
Use as often as needed!
For the first time use, please apply it on your hand to adapt to the correct operating suction as every skin type is different. May cause marks or redness on sensitive skin.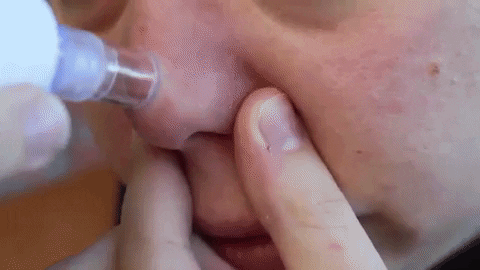 PACKAGE CONTENTS:
1 x DermaVacuum™
5 x Removable Suction Cups
1 x USB Charger
1 x User Manual
 -------
 Limited Quantity - Will Sell Out Fast!
 ⚡ORDER WITH CONFIDENCE⚡